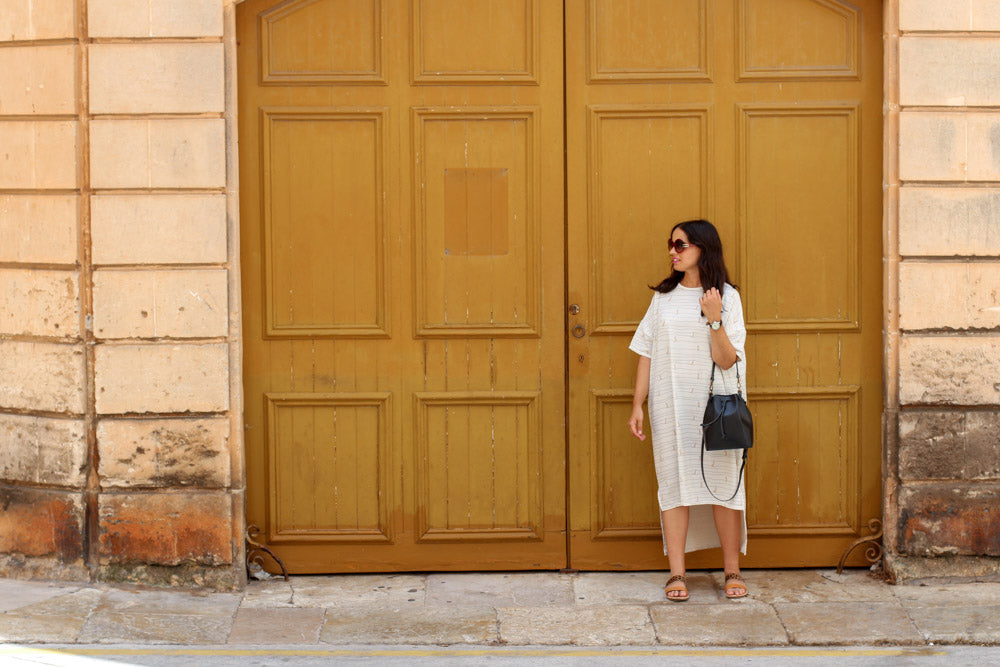 Visiting the Factory
On a warm July morning, before the fishing boats have returned from their rounds, we are making our way towards Ciutadella to visit our factory. Last night we arrived in Menorca, which belongs to the archipelago of Balearic Islands, located in the Spanish Mediterranean archipelago. The views on the way are breathtakingly beautiful; you are surrounded by nature with rocky cliffs, plenty of lush vegetation and natural beaches.
The door to the factory is always open, and the laid-back island lifestyle gets you in a relaxed mood upon arrival. Jose, the owner, started the factory about twenty years ago with his friend and today they employ around ten people.
Jose punching holes onto the leather
The feeling of casualness, the easiness and warmth of people can be sensed when you enter the workshop. You can often see Jose working at the sewing machine himself – the dedication for quality and skill is present during each step of the production. In Menorca, the working days start at sunrise, and all the production is done during the early morning hours before the scorching sun starts heating the island in the afternoon.
Miguel making adjustments to a sample
Spain has a rich heritage within leather craftsmanship, and Menorca is known for its high-quality leather goods. The leather used in MOIMOI bags is vegetable tanned in Igualada, Barcelona, following an age-old tanning method – the area has been known for their leather tanneries for centuries. The process is made with tannins that are extracted from nature, such as tree bark.
After tanning the leather, it is cut and sewn at the factory in Menorca. The leather is resistant and sturdy – it requires a skilled craftsman to tame the material under the sewing machine's presser foot, creating leather bags that are not just long-lasting and durable, but beautifully detailed. Here everything is made by hand, even when attaching the studs and lobster clasps on the bags. When the bags are done, they are packed to be ready for sending them about 2,500 kilometres north, all the way to Helsinki, Finland.
The making of a MOIMOI bag
The day is getting warmer, and the craftsmen are heading home after the day's work is done. It's time to head to the old town and enjoy some local delicacies: fresh sea food for lunch with a glass of Pomada, a local drink with gin and lemon. Ciutadella is a city where there are still small, family-owned businesses with heritage and skill only experienced leather artisans have. Small businesses with transparent production chains are unfortunately not found often anymore these days – we are proud to be supporting them, keeping the local skills and heritage alive.