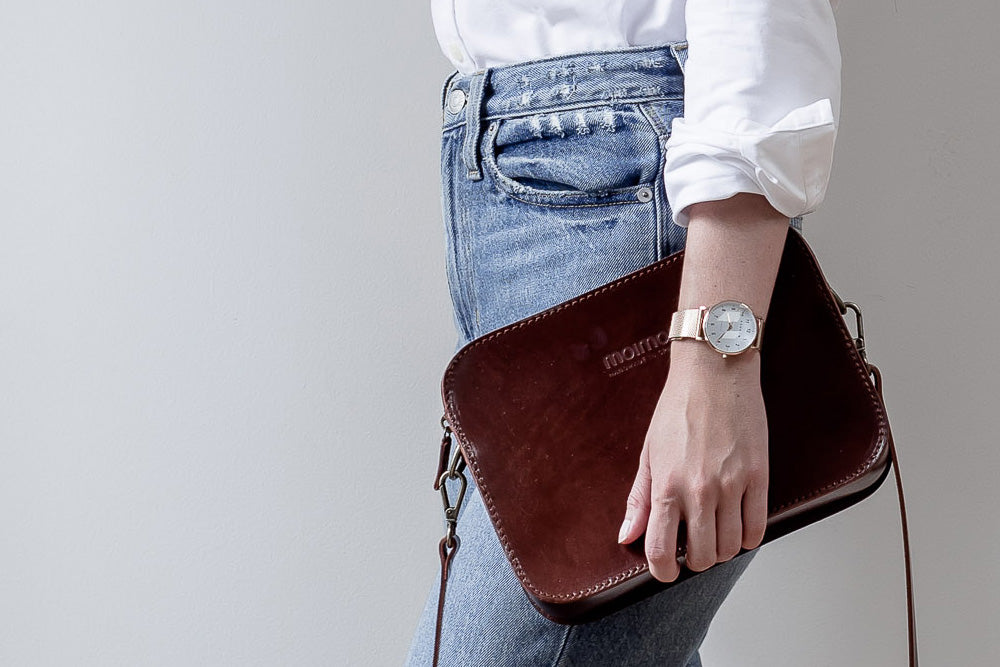 All MOIMOI bags are designed to be timeless and lasting, looking good from this season to the next. The idea behind a capsule wardrobe derives from the same intention – to consume mindfully and investing in pieces that will become foundations of your wardrobe which can be combined with things you already own and love to wear.
But how to build your own capsule wardrobe? We interviewed Mary Dillon, a New York-based blogger behind Exploring Simple, where she writes about minimalistic style and closet curation while sharing outfit ideas. She has told us how to get started on creating a closet you'll love,and how living more consciously has changed her.
Hi there! Could you tell us a little bit about yourself?
My name is Mary and I live in Manhattan. I work full time as an analyst and run my blog Exploring Simple in my spare time where I share simple, classic stylings with ethical brands!
What inspired you to create a capsule wardrobe, and what principles have you built it on?
I was inspired to create a capsule wardrobe after moving to the city and becoming frustrated with how much clothing I had that I didn't like and was taking up the little space I had. So, I researched how to build a closet of clothes I really love and began learning all about building a capsule wardrobe! As I began building it, I hoped to share with other women ways to avoid fast fashion, buy less, and buy from brands who are creating quality goods consciously.
What tips would you give to someone who wants to get started on building their own capsule wardrobe?
My biggest tip is to be patient! It's definitely a process, and you should start mostly with the clothes you already have. Pick 10 or 20 items from your current closet that you'll wear for a season. Set the rest aside. You can certainly buy a few things, but I think the most important aspect at first is getting a sense of what you like to wear. You'll be able to see what you wear the most from the items you chose, and you might also grab things from the clothes you set aside. I like to rotate my capsule seasonally and add a couple things I really love right before I switch. After a few months, you'll start collecting items thoughtfully that you love enough you'll want to wear them every day.
What do you look for when you're buying a bag?
Versatility and ease with a vintage or classic touch! Crossbody bags are without a doubt my favorite type of purse. I also like to make sure they aren't too small either. A medium size is perfect to fit all my essentials for work or walking around the city. A simple outfit always can use the addition of a simple leather purse.
How has living more consciously changed you?
I find that I am much more content with my clothing and so much more thoughtful about what I buy in every aspect of my life. I've saved a ton of money and also go to my closet every morning and love everything there is to choose from. Lastly, I like knowing that my money went to support people who believe in changing the way we think about clothes and are also making beautiful things in a sustainable way. I definitely think more about the whole cycle of everything I buy now and everyone it affects.
All images in the article by Mary Dillon / Exploring Simple
Mary is carrying the CARLA bag
Note: Mary is carrying our older leather version. Currently CARLA bag is available in our VEGAN material. If you prefer leather you can check INKA bag for a similar size or SOFIA bag for a similar design.