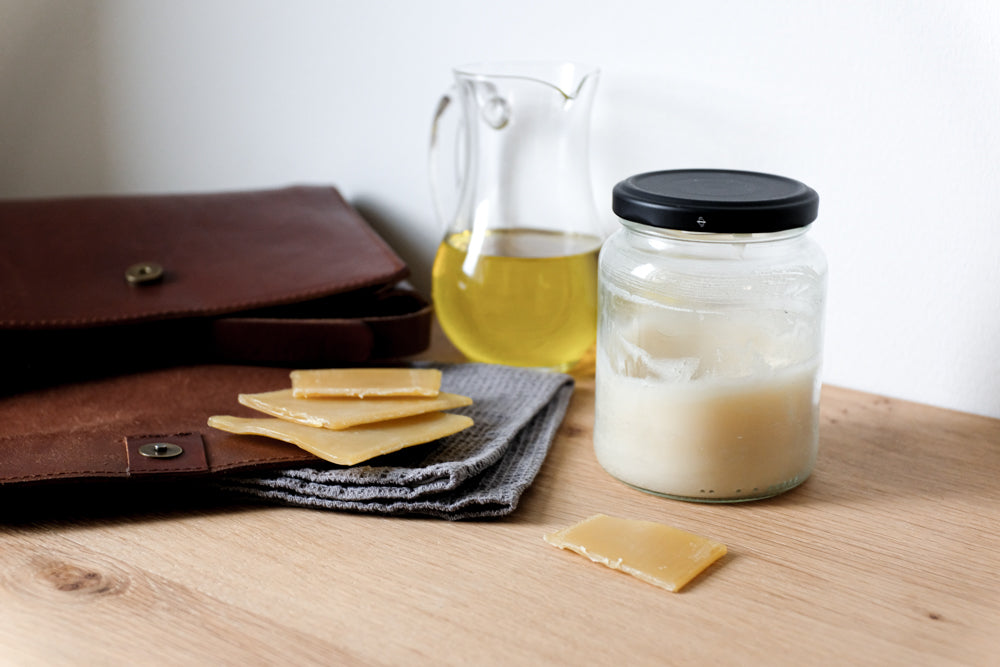 Vegetable tanned leather looks best when you treat it with natural ingredients. This DIY leather wax is eco-friendly and affordable – it doesn't contain any harmful chemicals, and you can reuse a glass jar and buy the ingredients plastic-free from most stores, which makes it also zero waste. The olive oil hydrates the leather and the beeswax protects the bag from rain, keeping the leather shiny by enhancing its natural colour. Making your own leather wax is actually quite simple, and when you make it yourself, you also know exactly what it has inside.
What you'll need:
150 g of Extra Virgin Olive Oil
50 g of Natural Beeswax
A container, for example a glass jar
Use a kitchen scale for measuring. Place the wax in a glass cup or any other cup that stands boiling water and heat. Add the olive oil after the beeswax.
If you bought a block of beeswax, it might help to cut it into thinner shavings with a knife beforehand. Mind your fingers and work carefully!
Now that you have measured both ingredients, you will need to melt the wax. Place the measuring cup in a pot with water, and bring the water to boil slowly. You want the water to just simmer – it might take some time for the wax to start melting. Wait patiently, and once you see it's melting, mix everything smoothly together. Leave the mixture for a few minutes to make sure that everything is liquefied well.
After the mixture looks ready, you can take it away from the heat and pour it into a container. Make sure that the container you use can stand heat, since the wax is very hot. Let the wax cool after pouring it, so that it will solidify.
Done!
When using the wax, you might need to rub it well until it becomes softer and manageable to work with. Always test the wax a little bit into a small part of your bag or other leather product before spreading it everywhere. Rub the wax and work it with your hands on the leather so that it creates a smooth, soft surface. Let it sit for a while so that the wax will sink in and use a soft rag to buff out the excess wax. Buffing the excess wax polishes the leather and leaves it looking shiny and conditioned.